Magnet 65% Keyboard
Sale price Price $499.00 Regular price Unit price / per

MAGNET 65% keyboard (Gasket Mount, Bluetooth, Hot swap)

、
1 . Standard Version (Full Aluminum accessories ) 399 USD
2. Golden
accessories 
Version (Full Cooper accessories)  499 USD
(The case itself is still Aluminum, just difference on accessories.
Metal Accessories including :
Volcano /Reactor(you can choose one of two), Badge at the side(do not go gentle...), Badges at the bottom(you can choose one of four), Bluetooth window, type-C interface.
Everything else is the same except the Metal Accessories, including:
- Hot Swap PCB, Bluetooth PCB, Type-C PCB and FPC connectors
- Plate( Aluminum / PC, you can choose one of two)
- 4500mAh battery
- Gasket Foam, Foam between PCB and Plate, Foam in the Cabin bottom
- light-transmitting Acrylic , light leaking preventive foam
- Screwdriver, Tweeze, screws(M3 and M2)
- Foot pad
Dear Friend, Please fill your choice of the Volcano /Reactor , Badges at the bottom(Geology, Astronomy, Mechanics, Biology), Plate( Aluminum / PC) in the order  comment(a cart option on the top when you click check out), or send me an email to confirm your options(jialunli@qq.com).
or else
we 'll randomly choose one and send for you .
All you need (except keycaps, switches, stabs )is included in this purchase , you don't need to buy extra choices if you don't want to .
I'll sorry that the shipping fee is expensive since all transport suppliers are rising there fees. 
Pictures of Volcano(First) and 
Reactor(Second) :
Geology, Astronomy, Mechanics, Biology (left to right)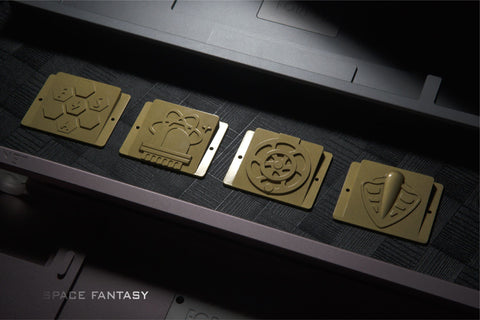 SPEC 
-Typing Angle: 5.7 degree
- Layout: 65% , WK
- Structure: Gasket mount, Individual battery cabin
- Plate: 2mm , optional PC/Aluminum plate(choose one in the case)
- Func: with Bluetooth3.0+5.0, plus 2.4G wireless ,individual Type-C connector, RGB lights, Hot swap switches,
- Anodic Aluminum and copper accessories, acrylic Bluetooth window (the glowing circle on the left side)
- Dimensions: L x W x H = 354 mm x 114mm x 30mm, about 1.3kg(with switches and keycaps)
- Colors: Black ,White, light Blue ,Dark Blue, Grey, Green, Pink

<Volcano like Individual indicator lights which shows all kinds of status including charging , Bluetooth connection status and so on >
<Acrylic Bluetooth window on the side with LED lights, like a thruster, which is elegant and at the same time ensure the wireless signal good >
<Changeable badges on the bottom side, and it got four different themes including[color=red] Geology, Astronomy, Mechanics, Biology[/color]>
<Gasket mount with very limited space and Poron foam under PCB, so it will keep the pleasant uniform typing feel and solid sound with barely no inner cavity echo>

Background Story:
The name MAGNET is from a story of immigrating to Mars

Magnet is man-made Magnet Field which protect the Mars atmosphere from solar wind

And 039 means 39 min that a day on Mars more than on Earth, it's free, private time with no response, no supervision carnival.

The first expedition team including four kinds of experts - Geologist, Astronomer,  Mechanical Engineer, Biologist, and they take the mission of build a livable environment on Mars.